Fr. Stephen Karcher, Presiding Priest
Voice: (775) 825-5365
Email: fatherstephen@att.net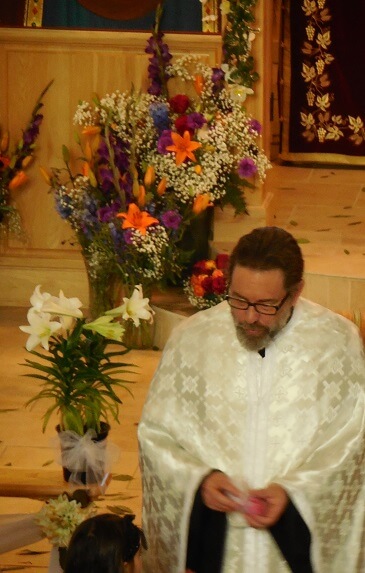 Fr. Stephen was born in 1964 in Santa Monica, CA, the oldest of four sons to Robert, a nuclear physicist in aerospace, and Carol Karcher. In 1971 they moved from Pacific Palisades to Mission Viejo, in South Orange County, California. There he grew up playing consecutive seasons of football and baseball, and did wrestling, surfing and bicycling until his graduation from high school in 1982. His religious experience throughout his youth entailed a rather nominal evangelical-protestant upbringing.
After high school, he attended UC Irvine, majoring in Classics. His desire in learning Greek was to become able to read the New Testament in its original language. In 1984, he took part in a summer mission project to Panama with Campus Crusade for Christ, an evangelical para-church organization. It was also during this period that Fr. Stephen became spiritually restless in Protestantism, longing to find Christianity's deeper roots. This search led him to the historic Orthodox Church, where he found a deep spirituality, sincere and powerful prayer, wisdom, consistency in scriptural interpretation and a regular and true way of worship. In 1987 along with 2,000 other former Evangelical Christians, he became Orthodox and entered the Antiochian Archdiocese.
The following year, in 1988, Fr. Stephen graduated from UCI with a degree in Classics and moved to Northern California. During that same summer, he and his wife, Olga, were married in the Santa Cruz Mountains where she grew up at SS. Peter and Paul Orthodox Church with 700 guests. They had met a few years earlier while attending a retreat for Orthodox college students, and then dated long distance with lots of loving correspondence and big phone bills. For the next nine years, they made their home in the Santa Cruz Mountains and his work included everything from sales and catering, to teaching high school Latin, and purchasing & selling computer equipment.
It had always been his dream to further study in Greece, a dream shared by Olga. When an opportunity presented itself in 1997, they sold their home and moved with their three children (at that time) to Thessaloniki, Greece. There Fr. Stephen attended the Pastoral Theology School at Aristotle University. Two more children were born in Thessaloniki and the five years they spent in Greece were some of their fondest.
While living in Greece they made many close friends, khoumbari (godparents to their children), and happily immersed themselves in Greek culture and language. They were blessed to be able to make regular pilgrimages to holy places like the island of Patmos and visit the monasteries of Mt. Athos, Meteora, St. John the Evangelist in Souroti, and the Annunciation in Ormylia. They attended church in Thessaloniki at St. Haralambos, a dependency of the monastery of Simonopetra on Mt. Athos, and enjoyed the pastoral guidance of Fr. Athanasios Gkikas, who is still their spiritual father. They experienced as much as they could the life of the Church and the rich Christian heritage that exists in Greece.
Fr. Stephen graduated with a degree in Pastoral Theology in the autumn of 2002, and having been solicited for ordination by the Greek Orthodox Patriarchate of Jerusalem and its representative in America, was ordained to the priesthood in the ancient Church of the Holy Sepulchre in Jerusalem on October 24, 2002. His first liturgies were served in the Holy Land at the Church of the Dormition of the Theotokos in Gethsemane and then at the ancient Lavra of St. Savvas.
Upon returning to America, he was briefly assigned to the St. George Church in San Francisco as an assistant priest. In June 2003, Fr. Stephen was sent to a mission parish in Escondido, California, that served a handful of families.  While the Karcher family lived in Temecula, near Escondido, their daughter, Eleni, was born in 2005.
After some years, Fr. Stephen was released to serve in the Greek Orthodox Archdiocese of America and was assigned as assistant priest at St. Paul Greek Orthodox Church, in Irvine, CA. While in Irvine, Joseph was born to Fr. Stephen and Pres. Olga, and rounded out their large family that consists of five boys and two girls: Theodore, Alexander, Christiana, Sava, Athanasios and Eleni, born between 1989 and 2007.  (In 2015, their oldest son Theo, married Sarah Collier, and in 2018 their first grandchild, Soren Matthew was born.)
During his years in Irvine, Fr. Stephen was fortunate to participate in the vibrant ministry of that dynamic parish, and especially in a mission trip to Tanzania in Africa where he helped build an Orthodox church with other members of St. Paul's. About this experience, Fr. Stephen wrote:
During my short trip to Tanzania… I had the awesome experience of witnessing first hand a vibrant apostolic ministry. Putting aside for a moment the obvious cultural differences, variations in climate, clothing, diet, modes of travel, etc., I would have to say that the greatest impression I've been left with is the powerful hand of God working through the bishop, his priests and staff as we saw how they minister selflessly to the Tanzanian people, devoted to the work of God and their fellow countrymen. For me, the time spent working with and witnessing the work of His Grace, Bishop Jeronymos of the Bukoba Diocese in Tanzania was almost as if I had stepped into the New Testament book of Acts…
(Read the whole article at http://www.stpaulsirvine.org/lessions_from_tanzania)
In December of 2010, Fr. Stephen was assigned to be Proistamenos (Pastor) of Saint Anthony Greek Orthodox Church in Reno, Nevada.