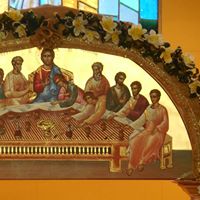 In his enthronement address last summer, His Eminence Archbishop Elpidophoros said that:
"In the Orthodox Church we breathe the richness of a long and sacred tradition. We hand it down to each succeeding generation and this is what apostolic succession means for our bishops: to be successors in the faith of the apostles. This too is our guarantee of genuine progress: if there is an unbroken apostolic continuity, and so we never forget our forefathers and fathers, patriarchs and prophets, apostles and preachers, saints and martyrs, confessors and ascetics—all those men and women, known and unknown, who have laid the foundations for the church and paved the way FOR US to belong to the Body of Christ. This is what Holy Tradition means, and in our church, we look back at our traditions in order to be able to look forward to sharing and growing our spiritual treasures by establishing roots in the local environments."
In this way, His Eminence continued:
"We can deliver the language of heaven to the reality of this world; and translate the eternal word of God in a way that truly transforms the transient nature of the world. To do this, first, we must be true to our evangelical roots and spiritual traditions: we must be a Church that embraces our young people; that embraces the strangers in our midst; that embraces all members of our community and our country. And we must offer them a taste of the sacramental life, of the living Body of Christ. We must welcome and embrace them, meeting them—just as the Lord Jesus Himself did with His disciples—on their own terms, in their own hearts, and with their own resources."
You see, my dear brothers and sisters, the challenges of church management and ministry are not merely secular, mundane concerns for the Church. After all, church is not just a group like any other group. It is not a charitable organization, social or ethnic club, not an Elks lodge or another Hellenic organization like AHEPA, and it is certainly not a business organization intent on material profit. It is not like the spiritual center next door or one of the denominations down the street.
The church is the body of Christ. The church is the place of communion with the Holy Trinity. How we do church, how we minister and serve is at the very heart of our response to celebrating and communicating the gifts that we have received from God.
His Eminence went on to say that "in a very real sense, we are all deacons! We are all accountable stewards of the resources of the faithful. And if we face our challenges and hurdles humbly and collectively, then we shall overcome them. If the Lord is our strength and our salvation—our consolation and our illumination—then we will bring glory to God."
On Saturday the 13th of June we celebrate the "leave-taking", the ἀπόδοσις of the Feast of Pentecost, when the Orthodox Church invites "all those who are baptized and clothed in Christ" to become children led by and enlightened by the fire and force of the Holy Spirit, who calls all people to unity by shedding their divisions and doubts. Pentecost also reminds us of  our life's purpose: We're all called to receive the gift of the Holy Spirit -all of us, whether we're young or old, indifferent or zealous, male or female, arrogant or humble- we are all called to work together with the Grace of God throughout the time of our lives to build up the Body of Christ! As we chant in the kontakion of the day: "Let us together glorify the All-Holy Spirit."
On Sunday as we celebrate and share the Eucharistic meal on the Feast of All Saints, we remember all the saints—very ancient saints like St. Nicholas the Wonderworker, and very recent saints like St. Iakovos Tsalikis. Let's be clear and understand that the Saints are real human beings just like you and me! From the Gospel reading we hear the Lord say that "everyone who has left houses or brothers or sisters or father or mother or children or lands, for my name's sake, will receive a hundredfold, and inherit eternal life." And from this we know that the saints are the ones who put God first in their lives.
The Saints are those who have become sons of God by grace, they are God's friends like Saints George, Katherine, John, Anthony. They're Saints like St. Sebastian of Jackson and St. John of San Francisco, St. Seraphim and St. Herman of Alaska. For all of them, God was the most important person in their earthly lives. Whether they lived with Christ in the 1st c. or 21st, they put Him first. The Saints are the ones who, as we hear Christ say in Sunday's Gospel, they're the ones "who acknowledge me before men".
To acknowledge Christ means –not just to talk- but to live life according to the Gospel. To acknowledge Christ means to have one primary love in life: God. This is what saints do. And then the Lord says of those who do this that "I also will acknowledge [them] before my Father who is in heaven".
Saints all have different personalities and temperaments, but they all have this in common: They love God more than anything else, more than food and drink, more than leisure, pleasure, digital games and fun, more than sports, movies and especially more than money. Saints are present at Divine Liturgy because they live to worship and they don't ever give up their Orthodox Faith. Saints acknowledge Christ by loving him even more than life itself!  AND Saints don't ever stop being saints, even after they die.
It's the same for all of us too, for all who die in communion with Christ. We don't stop being in communion with Christ after we die. Our communion with God starts here in this life and continues forever.  Life continues because Christ is eternal Life.
So, on the Sunday after Pentecost -every year- we celebrate All the Saints: the 'saints' who are the natural result of the presence of the Holy Spirit. According to the contemporary Elder & Saint Justin Popovich, "Saints are the centuries old authentication of the gospel, they are the extensions of Christ." They have proved by practice that the virtues of the Gospel are possible, and to live by the Gospel is achievable. The Saints verify that the Gospel of Christ is not only worth dying for (like the martyrs do) but worth living for too!
And Today we must remember that we too are all called to become members of the communion of saints— AND whether we spend 60 hours of the week working on a construction site, at a hospital or at our parish we all have the same calling: to be holy, to be set apart for Christ, i.e.to be saints. We are all fellow travelers on the magnificent journey that God has so graciously and generously prepared for us. May God be merciful to us and find us worthy to be counted among his Holy Ones! +