"Love your enemies, do good, and lend, expecting nothing in return, and your reward will be great, and you will be sons of the Most High." Luke 6:35
Dear Christians, you must know, that whoever helps the poor lends to God!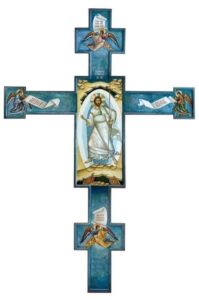 Your acts of good deeds will follow you in the afterlife, and on the Day of Judgment, they will stand up for you before the Righteous Judge, Who will judge the living and the dead. Our Christian love must be as the sun and the rain that God sends not only for the just, but for every man on the face of the earth, even to those who oppose His Will.
In the same way, the faithful Orthodox Christian loves not only those who love him, but even those who hate him: He loves those who harmed him, those who envy him, those who persecuted him and those who work evil against him on a daily basis. As our Lord and Savior Jesus Christ forgave those who crucified Him, when He was on the Cross, at that moment when He felt the utmost pain; just the same, we must also forgive all those who have done wrong to us.
Our Lord and Savior Jesus Christ through the Gospel reading gave us His Teachings and showed us the Way of Life in which we should follow. We need to know the Lords words, and to live by the Lords words! As we want others to do good to us, we must also do the same to them. As disciples of Christ, we must become imitators of God in His Love. Only, when we surmount the boundaries of natural human love, we will be able to partake in Divine Love, which does not know boundaries, prerequisites and charges no interest. Then, and only then, we will be children of God.
May His Divine Grace come upon all of you!"