Worship, prayer, and fellowship is the celebration of the Gospel. Worship is when we enshrine the Gospel in our hearts, minds, homes, and churches. Remember, the Gospel is God's message of his love for us.
The Gospel teaches many things but at the heart of it is that LIFE isn't simply biological, it's not just about bodies being born and maturing into adults., LIFE is biological, yes, but it is spiritual too, and the Gospel teaches that that we don't find life in possessions or wealth, through hard work and ingenuity, but rather, LIFE is a gift that comes to us only by Divine Grace, by God's Grace. Life is a gift of God, and it is something we get only from God, it is a product of the Holy Trinity.
We come to Liturgy to appreciate this gift of LIFE and to offer our theia efxaristia, our thanks to God. As humans we are in a unique position to bring goodness and blessing and sanctity into this world because heaven has been put into us! So, we remember God and offer him our gratitude and our rational [reasonable] worship. In other words, we offer the Divine Liturgy.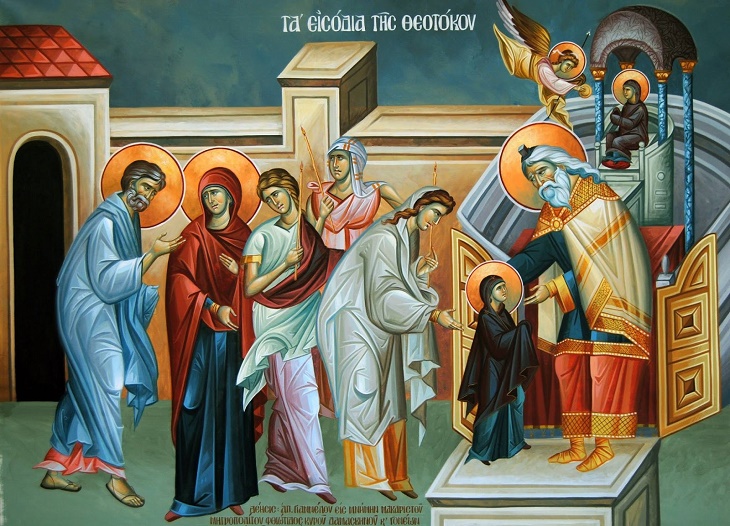 To celebrate the Divine Liturgy is our first great calling, something we do together. Divine liturgy fulfils us, brings us clarity and healing.
Today we here a story about a rich fool. The man WAS RICH BECAUSE he had many possessions. But he WAS A FOOL BECAUSE he thought his wealth guaranteed his life ''for many years to come''. When his life ended, so did his control of his possessions. Jesus here contrasts the idea of life as true 'existence' and the idea of life as 'possessions'.
The Lord really wants to turn our gaze in a different direction, he wants us to look toward heaven, to our homeland, to God first, to the remembrance of God, and to forget our idols. Our Lord Jesus Christ wants us to find our balance, by offering our thanksgiving to God first, offering our best back to God, offering our very hearts and minds to him. Jesus is calling us to be true worshippers of God, worshiping in Spirit and Truth, as he once said.
The original human vocation is a priestly one, to offer the world back to God with gratitude and thanks. We're called to be worshippers of the true God, not worshipers of ourselves or others or of things. The Lord, the Gospel, and the Church call us -not to fill our lives with idols- but to be filled instead with faith and light, to be true worshipers and children of God. Jesus came to restore balance, the balance in our own personal lives first, and then through us balance and health to the world.
And so, the Gospel teaches about true WEALTH, true riches, that it is to be rich in faith and to be rich in works. To have a life of close communion with God, a life centered in the worship of God, is to be rich in faith; to use my time and my skills and abilities, to use my possessions & wealth in accordance with faith (this means sharing with others & generosity toward others) is to be rich in works.
This is a life of love! Love for God and love for neighbor and remember who your neighbor is: everybody that is not you!
Jesus Christ and His saints have this kind of love; and it made them strong. It gave them the type of strength that defeats death, because nothing can overcome God's love. And this kind of love respects the 'other' as oneself. It is a love that is so close to Christ that each person feels valued. Real wealth and value are found in Christ, not in possessions, wealth, or accomplishments.
We cultivate our spiritual lives by choosing first, to worship together, to pray together and to pray for each other. Second, we can cultivate our spiritual lives by choosing to work together; to struggle together; to laugh, to shed tears, even to suffer with one another as the stewards, friends, and servants of God. Not as self-serving, but as servants of God, building up the body and the parish.
Let us use our time wisely so that WHEN this biological life comes to an end, God doesn't call us a fool like the man in the gospel but instead says, "Well done good and faithful steward. You have been faithful over a little. I will set you over much. Enter into the joy of your Master."
Accumulate spiritual wealth, be rich in faith and rich in works. Become worshipers of the True God and good stewards of everything you possess!