"We should notice the way in which Christ healed." 
He spat on the earth and 'made clay of the spittle'. We note this, because every sacrament of the Church heals in the selfsame manner:
Clay cannot heal the blind and yet with the breath of God, it becomes the container for the healing grace of God.
Water cannot heal and yet the water of baptism heals because the blessed water bears the Holy Spirit.
Oil cannot heal and yet the oil of chrismation and unction heal because they are filled with the grace of God.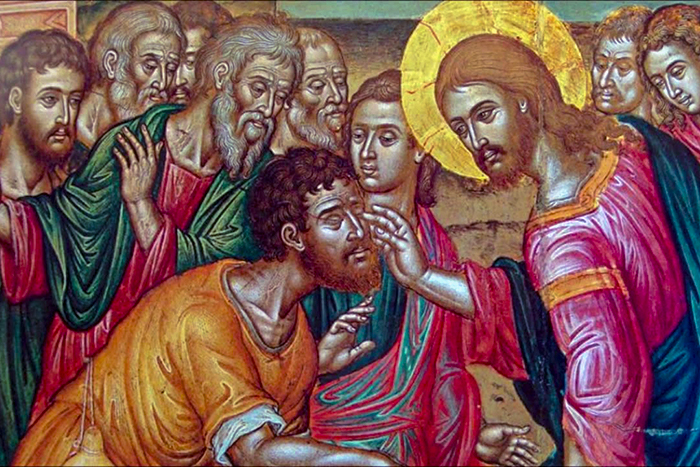 A piece of cloth cannot heal and yet a priest's stole can heal through the grace of Christ at the sincere confession of sins and the repentant intention not to sin again.
Bread and wine cannot heal and yet bread and wine transformed into the Body and Blood of Christ heal through the Holy Spirit.
Wood and paint cannot heal and yet icons can heal by the Holy Spirit Who penetrates into their material essence and radiates grace from them.
Smoke cannot heal and yet incense burnt brings healing through the blessing of Christ.
Christ teaches us then that all things can be used for our healing and benefit and salvation, but that they must first be touched by His grace.
In this way our bodies, mere flesh and bones and blood, can become containers of Christ. Our souls activated, we can become lamps of the Holy Spirit; the eyes of our souls, the doors of perception, become seeing, and we see the whole of God's Creation as it really is. We see that every blade of grass and every hill, every tree and every cloud, every drop of rain and every ocean, all creatures and all people, are miracles of God's handiwork, signs of His sacramental presence among us, and we see that we live not in the banal, everyday world, but in potential Paradise, the world as it really is, as God made it first, for we see God the Creator behind all things and all people.
And then we too, together with the man born blind, can say: 'I was blind, now I see'.