Q. Who are Saints?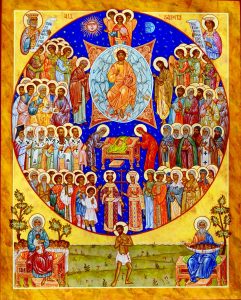 St. John of Damascus: "God's saints reigned over and mastered their passions and kept uninjured the likeness of the image of God, in which they were created; of their own free will they united themselves with God and received Him into their hearts, and so, in this way, having received Him in communion, through grace, they became like Him in their very nature.
The Saints in their lifetime already were filled with the Holy Spirit, and when they died the grace of the Holy Spirit was still present with their souls and with their bodies in the graves, and with their images and with their holy icons not because of their nature but because of grace and its activity… the saints are alive and with boldness they stand before the Lord; because they 'abide in the hand of God'; that is, in life and in light… and after He Who is Life itself and the source of life was ranked among the dead, we consider no more as dead those who depart with a hope of resurrection and with faith in Him."
Sunday, June 27: Orthros starts at 9am, Divine Liturgy follows at 10am.