Excerpt from a Homily by Archbishop Elpidophoros delivered on April 5, 2020
It so happens that today we celebrate Saint Mary of Egypt, who spent forty years in the desert, deprived of receiving Holy Communion, and she waited patiently until the night s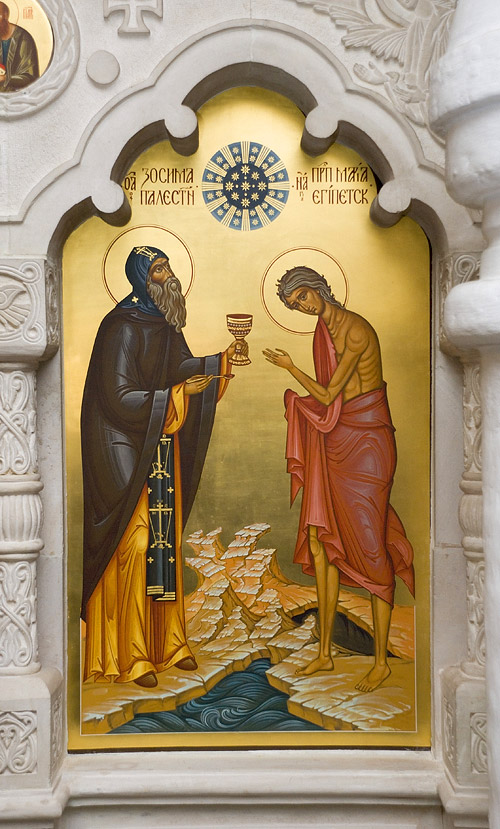 he passed from this world to receive the Eucharist one last time. She is a great Saint – we dedicate to her memory one of only fifty-two Sundays in the year – but she was called "an angel in the flesh" and we are all not such angels.
Then I thought of the words of our Lord Jesus Christ to His Disciples, on the night He gave Himself for the life of the world:
Ἐν τῇ οἰκίᾳ τοῦ πατρός μου μοναὶ πολλαί εἰσιν [In My Father's house are many mansions John 14:2]
With these encouraging words, our Lord and Savior assured His Disciples and all of us of His presence at every time and in every place….
You see, the secret of the Christian life is that even when you are deprived of everything you recognize as your religion, the entirety of God is always within you. As the Lord said to His Disciples on the night in which He was betrayed, when all hope had disappeared:
Ἐάν τις ἀγαπᾷ με, τὸν λόγον μου τηρήσει, καὶ ὁ πατήρ μου ἀγαπήσει αὐτόν, καὶ πρὸς αὐτὸν ἐλευσόμεθα καὶ μονὴν παρ ̓ αὐτῷ ποιήσομεν.  [If you love Me, you will keep My word, and My Father will love you, and we will come to you and make a cloister – a monastery –  a μονή – within you John 14:23]
This word, μονή, is the origin of the word "monastery" – the place where one dwells alone with God. It is our blessed assurance that God is always with us, and that we can always keep His word and be an entire monastery with the Holy Trinity residing in our hearts. Indeed, being that cloister of God –even in isolation from all others, is in fact the basis for our extension in and through the Spirit to every other person of faith.
My beloved Christians, be of good courage! We are never deprived of God! The only deprivation we can ever know is if we deprive ourselves of the experience of His abiding love, compassion, forgiveness, and mercy. And we do this by depriving others of these very same virtues through selfishness and egocentrism.