At the heart of our holy days, or feast days, festivals & banquets -to use a term from today's Gospel (Luke 14: 16-24)- is joy; joy and gratitude for how God cares for us, and for what he's revealed and achieved throug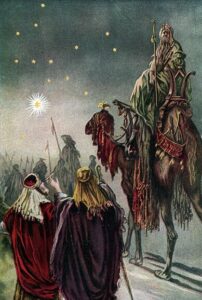 h his faithful holy ones.
These festive events help raise our eyes and minds above the everyday cares that bind us to earth, allowing us instead to enjoy and celebrate heavenly things.
For Orthodox Christians, keeping a feast day, i.e. Christmas, Pascha, etc., means to have a special opportunity to express and share joy. And we know that whenever we can share our joy with each other, rejoicing together as a family and community of faith, then our joy becomes fuller and more complete. It's by cheerfully, joyfully and deliberately celebrating the good things of God together as his children, that we not only strengthen the spiritual ties that bind us, but unite ourselves with heaven itself, where there's continual rejoicing and an unending feast.
Now especially is the season of joy. This is the season that we remember how beautiful our Faith is, how humble our faith, and how humble our Lord is who brings heaven down to earth for us. It's the season we remember how much God loves, and how much he is willing to do in order for this love of his to reach into your heart & fill it with the warmth of his grace. We can respond cheerfully and offer our gratitude joyfully.
May God continue to show his mercy to us as we truly rejoice in the Lord this Christmas season. May we learn to count everything he's done as a priceless treasure, placing it and keeping it at the center of our life and always appreciating ever more and more, growing in gratitude from week to week and year to year. Yes, may we always appreciate his care for us, his eternal and loving embrace that we experience in his Church.