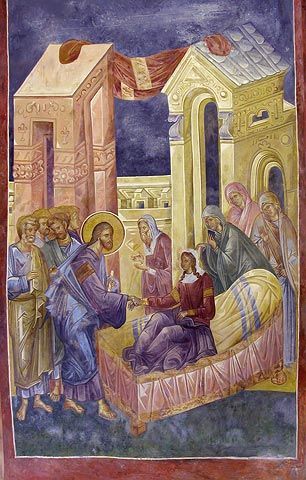 By His Eminence  Metropolitan Panteleimon of Antinoes
Faith in Christ is the power which saves and gives life to man. Our Lord and Saviour Jesus Christ, the Son of God, is man's only certain hope and salvation. No one can overcome death but only the Saviour of the world, Who through His death on the cross overcame the power of death and offered life to all those who will believe in His Name. Jesus Christ, the Son and Word of God, is the Lord of Life and death.
Man's life many times I described as the sea. The problems of life rise as enormous waves, which struggle to take us down into the ocean's depths, into despair and hopelessness. The abyss opens its mouth to swallow us. But, when one is armed with the faith in Christ, then in his most difficult moments, man finds the power to face and to confront these difficult moments, which as great waves they break out upon the ship of life in the multiform of tribulations, illnesses, temptations and deaths.
Our Lord and Saviour Jesus Christ, the Son of God, invited Ja'iros to stand well in his faith in Him. Believe and do not despair. Do not lose your hope. The fruit of faith in Christ is the victory of the faithful against death himself. For this reason the holy Martyrs of our Holy Orthodox Church were able to gain victory over death, because they were steadfast in their faith into Christ.
Man who does not have faith is like a ship without a compass. Faith is the victorious power, which leads man into the virtuous way of life. If one is without faith, he cannot achieve any virtue. If man is without faith, then he cannot only overcome the smallest problems of life, but, neither can he will be able to face the frightful hour of death and everything which follows death!
When the hour of death arrives, no one can help us, neither the best and skilled doctors, nor our friends, nor the powerful and rich, nor our relatives, nor scientists, nor those in authorities, nor those who have money and riches. Only Christ can save and comfort us. And the Lord saves all those who turn to Him, as He saved Ja'iros's daughter. And this was the result of his solid faith in Jesus Christ, the Son of God.
Our faith must be solid and truthful, we must stand in steadfastness avoiding any form of doubt. We must never bend before the problems of life, no matter how great they might be. The faith in Christ is a strong alliance, which will never disappoint anyone who believes. This is the reason why during the Holy Sacrament of Baptism, the Priest asks the God-parents to confess faith in Christ, by asking them: "Do you join Christ"? And they respond saying: "I do join Him"!
Man's life intermingles between joy and sadness.  The joyful moments are exchanged with sad moments. For this reason St Paul teaches us saying, that one should be joyful with those who are happy, and sad with those who are misfortune, for our life is like the field of lilies, which today they flourish and tomorrow the wither and die.
Everything around us witnesses the vanity and the mortality of all earthly pleasures. The problems of life will never end. Christ is offering the only solution. Let us strengthen within us our faith in Christ. Only, when we have been armed with the spiritual armor of God, which is offered to us by the Grace of the Holy Spirit, in other words faith, hope and love, and we practice these virtues in our daily life, then we shall be able to overcome all adversity powers and finally death itself.