A healthy perspective on God is discovered in our worship and how we approach God. Our perspective of ourselves is this: we are made in God's image. The image of God is who and what we are.  Nothing can take that away. Nothing can change it. We are made in God's image. We are mirrors that reflect God's glory. His glory shines in us all the time. Yes, the mirror is dirty, but it is there. It needs to be cleaned and polished!
At the core of every human being, writes St. Gregory Nazaianzus, is this amazing spark of divinity, created by God, put there by God which nothing, not even sin and death and the devil, can take away.  Yes, sin obscures our vision of this truth, AND fear distracts us from seeing it. The traumas and pains of life keep us from touching it.  All this negative stuff makes us believe wrongly that we are NOT the image of God, that we are separate from God, that he is far away from us and we are far away from him.  BUT THIS IS NOT TRUE.  It is impossible.  It is like a seed that cannot be destroyed, and it is growing and will grow forever until it reaches full fruition over and over again because there is no end to growing.
The answer is this: you must clear away everything that keeps you separate from God -BELIEVE- and nurture this belief. Clear it all away through spiritual effort, through love, through compassion, through worship, the sacraments, you have in the Church all manners of support:  your fellow Christians, your godparents, monks, priests, and the Saints so you can walk those difficult paths and go to those places in your hearts and minds and souls where you're afraid to go.  You have confession, as long as you're willing to be as honest as you can be about who you really are. You have Holy Communion and the reading of the Word of God that brings the li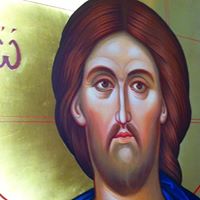 ght of Christ into the dark places of your lives. You need to be using every tool available to awaken yourself from the delusion that God is NOT closer to you than your heartbeat, the delusion that he is NOT closer to you than your breath.
The demons would have us believe in such illusions.  Jesus calls Satan the "father of lies" and the greatest of these lies is that God does not love us, is not in us and around us, caring for us all the time, that there is nothing luminous inside of us, no image of God in us.  To be in our "right minds" means to know Him, that He exists and that we are here by his grace and love. The Lord invites us to leave our fears behind and come to him as we are.  Just like it happens in today's Gospel, when we meet with Christ, speak and relate with Him, then we depart from the desert of sin, we become free from the bondage of hatred and discover spiritual peace and calmness. Let us approach Christ then, because the Truth will liberate us from everything that drags us into those barren desert places in the first place. Remember how the Lord has taught us saying: "Learn from Me, that I am meek and humble in heart and you will find peace in your souls".