"At that time, as Jesus was standing by the lake of Gennesaret, he saw two boats by the lake…."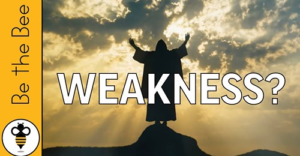 Nothing!
That's what the disciples caught after an exhausting, back-breaking night of fishing. When Jesus found them, they were getting ready to go home. Yet Jesus did something surprising in Sunday's Gospel reading. He told the disciples to try again.
"Put out into the deep and let down your nets for a catch." (Luke 5:4)
Did the disciples grumble? Well, maybe a little… But then they were obedient.
"Master, we toiled all night and took nothing! But at your word I will let down the nets." (Luke 5:5)
And you know what? The disciples caught so many fish that their boats began to sink! We all face moments of failure and weakness… Moments where it's easier to lash out at others than love them. Moments when we rely on our own illusion of strength rather than the "the power of God." (2 Corinthians 6:7)
But the Lord doesn't ask us to toil under our own power. He doesn't want us fishing all night and coming up empty. Because Jesus is the only strength we need. And His strength is made perfect in our weakness….
When the disciples came up empty, they turned to Christ. Why should we do any different?